Home Protection
The following products are very popular Home Protection products.
| | |
| --- | --- |
| Big Jammer is a strong 20 gauge steel adjustable door brace that installs easily under door knob and provides added security for home or business. Adjusts to fit most hinged doors. End caps can be removed to allow for use on sliding glass doors as well. Clean, baked enamel finish makes it attractive for in-house use. | This compact, attractive alarm uses magnetic affinity to initiate its 110 decibel siren. The base of the alarm is bolted to door or window frame, the actuator is connected to the window or door. The alarm is activated by opening the door or window. Great for any door or window, particularly those hard to protect sliding glass doors. Requires 3 lithium button cell batteries (included). |
| Mace Motion Alert is a passive infrared system that detects motion in any selected area. Compact and attractive, it mounts easily (vertically or horizontally) near any entry area and is battery operated, eliminating any need for wiring. Unit can be coded with a personal security code and can be set to utilize a two-tone entry chime, instead of the alarm sound. Mounting screws and AC connector included. 9-volt battery not included. | The Mini Alert Alarm uses passive infrared technology to protect a room from intruders. Producing an infrared triangle, the Mini Alert creates an unseen barrier that's impossible to penetrate without setting off the alarm! Battery operated, the Mini Alert need no wiring and can be easily moved to a new location. Mounting bracket included. Requires three "AA" batteries. |
| Mace Window Alert is a 95 decibel glass breakage alarm that attaches to windows and set off by vibrations caused if someone tries to break through. Installs easily on any window. Solid, state-of-the-art design. Battery included. | The Electronic Watch Dog is a unique alarm system that uses the same advanced technology as some police radar systems. With microwave technology, it is able to "see' through walls to determine when someone is approaching and how close they are. When an intruder comes within 20 feet, it begins barking like an angry German Shepherd. The closer they come, the more frequent and more threatening the barking becomes. |
Lock'n Alarm for metal sliding doors and windows. Provides additional lock security and alarm safety to sliding doors/windows even when left partially open. Vibration from attempt to open door/window sounds high output 120 db alarm siren. Screw locking mechanism keeps window secure. Battery included. Off/On switch.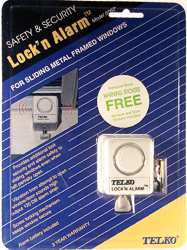 ---
Shipping Options

Domestic (US) Shipping
Most orders will be sent via UPS Ground or USPS Priority.

International Shipping
International packages will be sent via United States Postal Service Air method. Your shipping charge will be based on the weight of the package. You shipping charge will be added to the grand total of your order.

Information line and Customer Service: In USA and Canada call toll-free 1-888-382-7994
To place your order by phone call 1-800-293-2032 This is an order line only! Please Email Us for questions!

International orders call +1-888-382-7994

International fax +1-210-568-2813
We accept Visa, MasterCard and Discover. Order online, Email, fax or call in your order today!