MODEL #34000: AIR TASER System Includes: AIR TASER Powerhandle, 2 Air Cartridges, High Impact Storage Case, Practice Target, 30 Minute Training Video, Owner's Manual, 9 Volt Energizer Battery, Lifetime Warranty.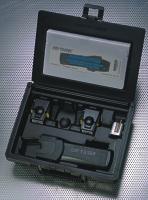 $250.00 each
MODEL #34100: STUN TASER is the power handle included in the Air Taser Kit without the accessories. You may add cartridges to make it a complete Air Taser. By itself it works the same as a regular stun gun... simply touch the assailant. You may also add the Laser Sight.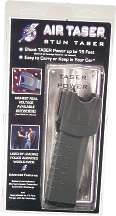 $119.95 each
MODEL #34220: 2 pack of Air Cartridges. Reload your AIR TASER in less then a second with replacement Air Cartridges. Price shown is for two cartridges.


$59.95 each
MODEL #34720:LASER SIGHT Module (Laser Only) Laser Sight fits onto AIR TASER and illuminates target with a bright red laser dot. Powerful Deterrent as well as aiming aid.


$149.95 each