Child Guard Alarm
Have you ever experienced the terror of thinking your child is missing or lost? We have all had the gut-wrenching feeling of turning around in a busy street and finding that our child is nowhere in sight. Now this could be prevented with the new improved Child Guard.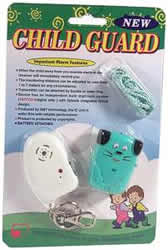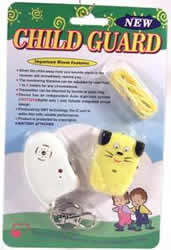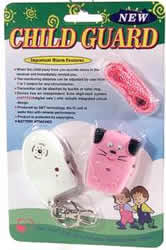 Worn by the child, the cartoon animal-shaped transmitter sends a constant signal to the receiver, which is held by the adult. The signal is adjustable - from a distance of 6 to 30 feet, so when the child goes beyond the set distance, the adult's receiver starts to beep, letting them know that the child is starting to wander off.
Frequencies adjust themselves automatically to alert the proper receiver if more than one adult is in the same area using the Child Guard monitoring system.
The Cutting Edge of new microchips produced by SMT® technology, also referred to as the IC unit, is wafer thin and performs with superb accuracy and is incredibly reliable. The IC unit is nicely hidden in a small plastic animal (looks like a toy) and can be concealed very easily under a shirt or jacket if desired.
Simple and easy to use compact wireless design.
Child friendly design - Strategically hidden in a plastic toy looking transmitter.
Has a rotating dial that you can adjust anywhere between 6 and 30 feet.
Transmitter can be attached by buckle, to clothes, or worn as a necklace.
Suitable for indoor and outdoor use.
Lithium batteries included.
Easy to read instructions.
$24.95 each
Sold Out!

---
Shipping Options

Domestic (US) Shipping
Most orders will be sent via UPS Ground or USPS Priority.

International Shipping
International packages will be sent via United States Postal Service Air method. Your shipping charge will be based on the weight of the package. You shipping charge will be added to the grand total of your order.

Information line and Customer Service: In USA and Canada call toll-free 1-888-382-7994
To place your order by phone call 1-800-293-2032 This is an order line only! Please Email Us for questions!

International orders call +1-888-382-7994

International fax +1-210-568-2813
We accept Visa, MasterCard and Discover. Order online, Email, fax or call in your order today!