Chris Clugston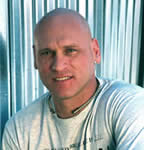 Chris Clugston has been a student of martial arts all of his life, in fact by the age of 20 he had already earned five black belts in five different martial arts. Chris went to the trouble of learning 7 different languages so that he could travel the world in search of the "Holy Grail" of fighting styles.
He also won over 50 vicious, no-rules streetfights during this time. This is how he realized how stupid it is to master any martial art style that has rules (no kicking in boxing, no strangling in wrestling, no head-punches in karate… and ridiculous time-limits in all of them!). The real world of streetfighting has no rules!
Chris believes that even the most brutal-looking "official" fighting systems can actually get you killed in the street… and the "confidence" you get from years of dedication to any formal training is A Total Sham!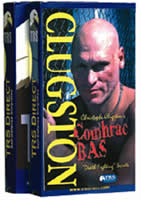 COHMRAC BAS - Rediscovered Fighting System Used By The Gladiators In Ancient Rome Is Easy To Learn! It's true! There's a fighting system you've probably never heard of that actually BEATS all the Oriental martial arts ever developed-hands down! It's the lost (but recently rediscovered) fighting style that was used by the gladiators of ancient Rome back in the time of Julius Caesar! These guys fought to the death every day of their lives, so they had to have a fighting method that would really work under actual "mortal combat" circumstances. And the system they developed is unlike anything you've ever seen or trained in before.
It's known as "Comhrac Bαs"- a Gaelic term that means "Death Fighting". You won't believe your eyes when you see what you can do with "Comhrac Bαs" fighting techniques. You can take everything you've ever learned in the martial arts and throw it out the window. Comhrac Bαs makes everything else OBSOLETE! Christopher Clugston's all-new "Comhrac Bas" contains hyper-advanced "upper level" vicious and amazing fighting skills. 2 -Tapes: Total Run Time: 157 Min ITEM # CBAS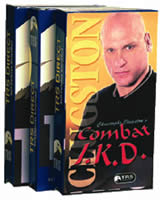 COMBAT JKD - Secrets of Street Combat Chris is very aggressive in his teaching methods. He demonstrates running attacks and how to deal effectively with multiple attackers. These techniques are quick and easy to learn and don't necessarily require a partner to practice and master them.
3-Tapes: Total Run Time: 3 Hrs 45 Min ITEM # SECRET
Gladiator Fighting • Combat J.K.D. • American Combat Karate • Fighting Mindset • Home Invasion Solutions • Fight to Win • Street Fighting Skills • Escape Impossible Holds • Guard Submissions • The Clave • Hwa Rang Sul • Ultimate Ground Fighting • Israeli Connection • Secrets of Cage Fighting • Indian Fighting Skills • Secrets of Gun, Knife & Club Disarmament • Small Man's Advantage • Russian Fighting System • Street Safe • Street Survival Series • Filthy Jailhouse Tactics • Delta Seal Camp • Unarmed Combat Course • Rapid Assault Tactics
Back to Instructional Fighting Videos Main Page

---
Shipping Options

Domestic (US) Shipping
Most orders will be sent via UPS Ground or USPS Priority.

International Shipping
International packages will be sent via United States Postal Service Air method. Your shipping charge will be based on the weight of the package. You shipping charge will be added to the grand total of your order.

Information line and Customer Service: In USA and Canada call toll-free 1-888-382-7994
To place your order by phone call 1-800-293-2032 This is an order line only! Please Email Us for questions!

International orders call +1-888-382-7994

International fax +1-210-568-2813
We accept Visa, MasterCard and Discover. Order online, Email, fax or call in your order today!