Mark Hatmaker Fighting Videos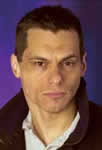 Mark Hatmaker has dedicated the last 9 years of his life to studying the best ground fighters in the world and picking apart their favorite holds until he discovered the secrets of escaping every hold. Mark is only 5'8" and maybe (maybe) 150 pounds, and yet he cannot be held down by even the most painful and complex hold, no matter how much bigger and stronger his opponent is.
Hatmaker has been a martial artist for over 20 years and has spent that time challenging everything that other fighters called "Impossible". He has revealed secrets that have shaken the ground fighting experts to the core, exposing the secrets to escaping and beating the world's best ground fighters.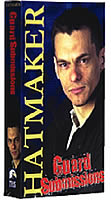 GUARD SUBMISSIONS -There comes a time in every man's life when he has to face a cold, hard reality that takes him utterly by surprise. Someone who is intent upon hurting, even killing you. It happens to people like you every day. Will you be ready for it when it DOES happen? Mark Hatmaker's "Guard Submissions" teaches you exactly what you have to do - in ANY situation - to always take control from "the guard" position and force your attacker into a submission. It's packed with dozens of techniques: arm Locks, chokes, arm bars, surprise moves and tons more!
1-Tape: Run Time:46 Min ITEM # HATGSUB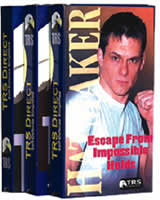 ESCAPES FROM IMPOSSIBLE HOLDS - Almost overnight you will have the skills and knowledge to escape from the biggest, meanest, most skilled grappler. You will learn how to quickly and easily bust out of more than 36 so-called 'impossible' holds.
3-Tapes: Run Time: 1 Hr 58 Min ITEM # HATHOLDS
Gladiator Fighting • Combat J.K.D. • American Combat Karate • Fighting Mindset • Home Invasion Solutions • Fight to Win • Street Fighting Skills • Escape Impossible Holds • Guard Submissions • The Clave • Hwa Rang Sul • Ultimate Ground Fighting • Israeli Connection • Secrets of Cage Fighting • Indian Fighting Skills • Secrets of Gun, Knife & Club Disarmament • Small Man's Advantage • Russian Fighting System • Street Safe • Street Survival Series • Filthy Jailhouse Tactics • Delta Seal Camp • Unarmed Combat Course • Rapid Assault Tactics
Back to Instructional Fighting Videos Main Page

---
Shipping Options

Domestic (US) Shipping
Most orders will be sent via UPS Ground or USPS Priority.

International Shipping
International packages will be sent via United States Postal Service Air method. Your shipping charge will be based on the weight of the package. You shipping charge will be added to the grand total of your order.

Information line and Customer Service: In USA and Canada call toll-free 1-888-382-7994
To place your order by phone call 1-800-293-2032 This is an order line only! Please Email Us for questions!

International orders call +1-888-382-7994

International fax +1-210-568-2813
We accept Visa, MasterCard and Discover. Order online, Email, fax or call in your order today!