Tony Walker Fighting Video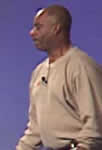 Lt. Tony Walker has the toughest job of any cop in the country. As a guard in an overcrowded and extremely volatile juvenile detention center, Tony is exposed to more violence every hour of the day than a Spec Op soldier on the front lines sees in a month... yet he doesn't have the option to kill or maim his attackers! He personally designed a system of restraints and devastating pain compliance moves that has been adopted by his institution. Because of Tony's insight and ability to teach in a lightning quick fashion he is the head of the Tactical Response Team in his facility.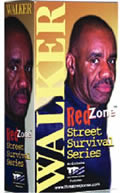 STREET SURVIVAL SERIES - Cops call it the "Quiet Man's" self-defense. Without much fuss, and without breaking a sweat, you can put a stronger and more skilled attacker down and under your total command with simple yet agonizing "pain compliance" moves that take just one hand... and yet, despite the intense pain you inflict, you will leave no marks or long-term damage. It's perfect for controlling a dangerous situation with total confidence that you will not be hauled into court for maiming or killing the punk you take down. Yet the special-force cops who rely on this easy-to-learn "instant pain" system have never allowed it to be revealed to civilians before...until now!
2 -Tapes: Total Run Time: 4 Hrs. ITEM # WALKER
Gladiator Fighting • Combat J.K.D. • American Combat Karate • Fighting Mindset • Home Invasion Solutions • Fight to Win • Street Fighting Skills • Escape Impossible Holds • Guard Submissions • The Clave • Hwa Rang Sul • Ultimate Ground Fighting • Israeli Connection • Secrets of Cage Fighting • Indian Fighting Skills • Secrets of Gun, Knife & Club Disarmament • Small Man's Advantage • Russian Fighting System • Street Safe • Street Survival Series • Filthy Jailhouse Tactics • Delta Seal Camp • Unarmed Combat Course • Rapid Assault Tactics
Back to Instructional Fighting Videos Main Page

---
Shipping Options

Domestic (US) Shipping
Most orders will be sent via UPS Ground or USPS Priority.

International Shipping
International packages will be sent via United States Postal Service Air method. Your shipping charge will be based on the weight of the package. You shipping charge will be added to the grand total of your order.

Information line and Customer Service: In USA and Canada call toll-free 1-888-382-7994
To place your order by phone call 1-800-293-2032 This is an order line only! Please Email Us for questions!

International orders call +1-888-382-7994

International fax +1-210-568-2813
We accept Visa, MasterCard and Discover. Order online, Email, fax or call in your order today!