Tom Proctor Fighting Video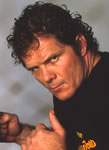 Tom Proctor is one of the last remaining Black Belt Masters of the 'forgotten art' of Tao Chi Do. He is one of only 3 black belts in the entire country.
At age 45, Tom Proctor is also the ISCF Heavyweight Champion, despite being twenty pounds underweight. Tom burst on the cage fighting scene 5 years ago... smaller, older, and less experienced than any opponent that he has ever faced. The results are plain and simple, 17 fights later, Tom has put them all down, fast, in a division that he is not even qualified for.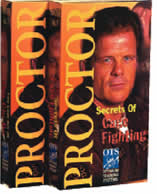 SECRETS OF CAGE FIGHTING REVEALED - You will learn how to completely protect yourself and buy as much time as you need to evaluate your opponent. These secrets can be easily adapted to any fighting style you use. In about an hour you will know why Tom and his students dominate the cage fighting arena.
2-Tapes: Total Run Time: 1 Hr 30 Min ITEM # CAGE
Gladiator Fighting • Combat J.K.D. • American Combat Karate • Fighting Mindset • Home Invasion Solutions • Fight to Win • Street Fighting Skills • Escape Impossible Holds • Guard Submissions • The Clave • Hwa Rang Sul • Ultimate Ground Fighting • Israeli Connection • Secrets of Cage Fighting • Indian Fighting Skills • Secrets of Gun, Knife & Club Disarmament • Small Man's Advantage • Russian Fighting System • Street Safe • Street Survival Series • Filthy Jailhouse Tactics • Delta Seal Camp • Unarmed Combat Course • Rapid Assault Tactics
Back to Instructional Fighting Videos Main Page

---
Shipping Options

Domestic (US) Shipping
Most orders will be sent via UPS Ground or USPS Priority.

International Shipping
International packages will be sent via United States Postal Service Air method. Your shipping charge will be based on the weight of the package. You shipping charge will be added to the grand total of your order.

Information line and Customer Service: In USA and Canada call toll-free 1-888-382-7994
To place your order by phone call 1-800-293-2032 This is an order line only! Please Email Us for questions!

International orders call +1-888-382-7994

International fax +1-210-568-2813
We accept Visa, MasterCard and Discover. Order online, Email, fax or call in your order today!