Frank Cucci Fighting Video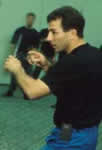 Frank Cucci is a pioneer in developing new, simplified hand-to-hand fighting systems for the Navy SEALS. 12 years as a Navy SEAL himself, including 4 years in SEAL Team Six, the most elite division in the SEALS. He's the Chief Instructor of the Naval Special Warfare Unarmed Combat Course offered to SEALS. Frank's ability comes through the teachings of Dan Inosanto, Jeet Kune Do Master and Surachai Sirisute, Thai Boxing Master.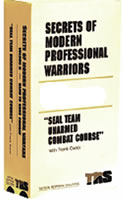 UNARMED COMBAT COURSE These new skills were specifically designed for situations where top soldiers suddenly found themselves without a gun or even a pocket knife... possibly wounded... surprised by ambush... out-numbered... and with the violence around them reaching the point of life and death! In short, a situation where everything was completely screwed up! A situation much like you might find in the street, where you suddenly found yourself... completely cut off from safety and facing the most deadly attacker(s) you could imagine!
This is brutally advanced as you can get in "desperation" unarmed fighting skills-the kind you would need, say, if you were attacked in a parking lot after a wedding reception...dressed in your best suit, completely taken by surprise, and forced to protect yourself and your family without a second to think. In a situation where you absolutely had to win to survive! Just seeing this new system will MULTIPLY your ability to control and dominate ANY violent situation you're in!
1-Tape: Total Run Time: 1 Hr 55 Min ITEM #CUCCI
Gladiator Fighting • Combat J.K.D. • American Combat Karate • Fighting Mindset • Home Invasion Solutions • Fight to Win • Street Fighting Skills • Escape Impossible Holds • Guard Submissions • The Clave • Hwa Rang Sul • Ultimate Ground Fighting • Israeli Connection • Secrets of Cage Fighting • Indian Fighting Skills • Secrets of Gun, Knife & Club Disarmament • Small Man's Advantage • Russian Fighting System • Street Safe • Street Survival Series • Filthy Jailhouse Tactics • Delta Seal Camp • Unarmed Combat Course • Rapid Assault Tactics
Back to Instructional Fighting Videos Main Page

---
Shipping Options

Domestic (US) Shipping
Most orders will be sent via UPS Ground or USPS Priority.

International Shipping
International packages will be sent via United States Postal Service Air method. Your shipping charge will be based on the weight of the package. You shipping charge will be added to the grand total of your order.

Information line and Customer Service: In USA and Canada call toll-free 1-888-382-7994
To place your order by phone call 1-800-293-2032 This is an order line only! Please Email Us for questions!

International orders call +1-888-382-7994

International fax +1-210-568-2813
We accept Visa, MasterCard and Discover. Order online, Email, fax or call in your order today!