Jim West Fighting Video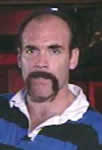 Anyone can talk fighting (and a lot do). But only a real fighter like Jim West can show you how to survive and win in the real world. Jim has actually been in over 600 bloody hand-to-hand streetfights... and won every single one, decisively!
Jim earned a half a dozen medals in Iraq during Operation Desert Storm. He was even invited into the top secret Marine "War Room" to help plan offensive strikes. He spent 15 years in the "black bag" arm of the Green Beret earning him the coveted "Whiskey 9" top secret clearance that only the best of the best soldiers ever receive. He trains special forces in hostage rescue and Justice Department agents in Hand-to-hand combat.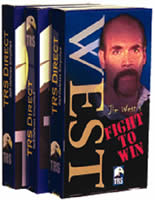 FIGHT TO WIN - Jim quickly teaches you the "Dark Art" of truly nasty, vicious no-rules fighting. He teaches you punches, movement patterns, kicks, choke holds, joint manipulations, pressure points and floor moves... plus much more!
3-tapes: Total Run Time: 4 Hrs 4 Min. ITEM # WIN
Gladiator Fighting • Combat J.K.D. • American Combat Karate • Fighting Mindset • Home Invasion Solutions • Fight to Win • Street Fighting Skills • Escape Impossible Holds • Guard Submissions • The Clave • Hwa Rang Sul • Ultimate Ground Fighting • Israeli Connection • Secrets of Cage Fighting • Indian Fighting Skills • Secrets of Gun, Knife & Club Disarmament • Small Man's Advantage • Russian Fighting System • Street Safe • Street Survival Series • Filthy Jailhouse Tactics • Delta Seal Camp • Unarmed Combat Course • Rapid Assault Tactics
Back to Instructional Fighting Videos Main Page

---
Shipping Options

Domestic (US) Shipping
Most orders will be sent via UPS Ground or USPS Priority.

International Shipping
International packages will be sent via United States Postal Service Air method. Your shipping charge will be based on the weight of the package. You shipping charge will be added to the grand total of your order.

Information line and Customer Service: In USA and Canada call toll-free 1-888-382-7994
To place your order by phone call 1-800-293-2032 This is an order line only! Please Email Us for questions!

International orders call +1-888-382-7994

International fax +1-210-568-2813
We accept Visa, MasterCard and Discover. Order online, Email, fax or call in your order today!