Shahram Moosavi Fighting Video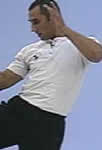 Ex-Iranian Secret Service Agent, Shahram Moosavi, was an elite front line soldier who was trained in what is called in the Middle East as "Blood Tomorrow" training. You must learn and master moves one day, then live combat the next. If you fail, you die, it's that simple.
After 3 long years of 'mortal combat' on the front lines, against better armed and more savage opponents during the Iran/Iraq war, Shahram became a ranking member of the Persian "Control Grogun Vahhead", the most feared (and most employed) arm of the secret service there.
Then he decided to escape! Shahram's escape from Iran was no small feat, you get caught, you die, no trial. After setting up a meager life in the US, Shahram set out on his greatest mission...rescuing his family in Iran. He snuck through the mountains and deserts of Pakistan (where the night temperature can reach 140 degrees!), fighting thieves, snakes, scorpions, and going for days without water.
All the while knowing that if he got caught, he would be dead within the hour. He went through this hell to rescue his parents and siblings, not once... but twice!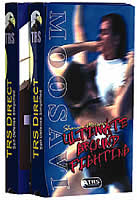 ULTIMATE GROUND FIGHTING - The ground is where 90% of all street fights end up... and it's where even the toughest men get their heads handed to them if they do not know what they are doing! If you learn nothing else about fighting the rest of your days... these easily-learned ground fighting secrets will ensure that you are the MASTER of any fight that goes to the dirt. What you are about to see will amaze and shock you... because there is no way you could ever "stumble" on these high-level, advanced ground fighting secrets without the personal attentions of only a handful of men on the planet.
2-Tapes: Total Run Time: 1 Hr ITEM # MOOSAVI
Gladiator Fighting • Combat J.K.D. • American Combat Karate • Fighting Mindset • Home Invasion Solutions • Fight to Win • Street Fighting Skills • Escape Impossible Holds • Guard Submissions • The Clave • Hwa Rang Sul • Ultimate Ground Fighting • Israeli Connection • Secrets of Cage Fighting • Indian Fighting Skills • Secrets of Gun, Knife & Club Disarmament • Small Man's Advantage • Russian Fighting System • Street Safe • Street Survival Series • Filthy Jailhouse Tactics • Delta Seal Camp • Unarmed Combat Course • Rapid Assault Tactics
Back to Instructional Fighting Videos Main Page

---
Shipping Options

Domestic (US) Shipping
Most orders will be sent via UPS Ground or USPS Priority.

International Shipping
International packages will be sent via United States Postal Service Air method. Your shipping charge will be based on the weight of the package. You shipping charge will be added to the grand total of your order.

Information line and Customer Service: In USA and Canada call toll-free 1-888-382-7994
To place your order by phone call 1-800-293-2032 This is an order line only! Please Email Us for questions!

International orders call +1-888-382-7994

International fax +1-210-568-2813
We accept Visa, MasterCard and Discover. Order online, Email, fax or call in your order today!